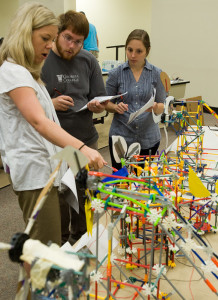 I'm hoping to get to the point today. As I said, it's a complicated argument. All that I've written so far is the same thing I've been saying for 20 years. But my recent experiences as a long-term substitute at an urban middle school, teaching 7th and 8th grade science, lead me to conclude that not much has changed.
First of all, let me say that I was incredibly impressed with this school. The principal was a great instructional leader and support for teachers was solid. Students were strictly disciplined and at the same time in ways that met their developmental needs. This high-poverty school in a gang-dominated neighborhood was an oasis of relative safety.
At the same time, science instruction was dismal. Not more dismal than most middle school science instruction in the US. But I was disappointed to see that in this pretty darn good school where a reform-minded administration has worked to institute school-wide adherence to a reasonable set of principles (and I'm not going to identify them specifically), that the "core of schooling" was unchanged. The core of schooling, Seymour Sarason's words, is the relationship between teachers, students and knowledge. The core of schooling is the quality and nature of interactions that occur between students and teachers, students and students, and I would add, between teachers and teachers.
When I started in my long-term substitute position at the urban school I was excited at the prospect of a school-wide focus on specific reform strategies. When I was in Georgia doing teacher education, I developed a collaboration with one of my EdS students, Karen Sinclair, to do STEM projects with her 8th graders. We continued our relationship after she graduated. She is a great teacher who instantly grasped the implications of our study of the cultural practices of schooling.
The school where Karen taught, Morgan County Middle School, was led by a dynamic principal, who committed the school to a five-year implementation of Carol Tomlinson's differentiated instruction model. Now there are a few parts of the Tomlinson model that I take issue with, but when I visited with a cohort of middle grades teacher candidates, sitting in on a variety of classes, I could see Tomlinson's focus on students' experience of the curriculum was leading to engagement and critical thinking, and was in fact making positive changes in the core of schooling.
After two years (or maybe three, can't recall exactly, but I think it was two) of this school-wide reform, Morgan County Middle School rose from the middle to the top ranks of Georgia middle schools, as measured by test scores. I personally think this was, to some degree at least, a reflection of the general mediocrity of all the other Georgia middle schools. (At least all the ones I've been in, which is quite a few. The highly-touted "good" schools are just those with a high SES population.) Nevertheless, just a little effort at systemic reform in Morgan County payed off big.
Who knows what would have happened had the principal remained for the full five years? But, the culture doesn't really care if education is good. What happened is, the principal leveraged funding earmarked for other specific uses to get the program implemented. He was unceremoniously fired when the Board of Education discovered it. There was no embezzlement, he was just trying to find enough money for the reform program. I met with his replacement in order to secure her support for our grant proposal, but she was cagey. I sensed that she didn't want to make any political missteps. So, our collaboration ended. Karen eventually left to teach high school.
The point of the MCMS story is that I came to understand that any systematic and consistently-applied reform program is likely to improve teaching and learning.
So this past year, I was excited to find myself at an urban school where such a sustained and determined effort at reform was occurring. And then I observed that the other science teachers, with one possible exception, had found ways to appear compliant with the reforms but were stolidly entrenched in deficit views of students, and engaging them in rote learning, lots of worksheets, and very direct instruction even while making it look good when the principal came by. (The principal may be savvy enough to not be fooled. This person of unnamed gender picks battles carefully, something I admire.) The teachers continued to deluge students with decontextualized vocabulary, memorization, and questions from the end of the chapter. At the principal's insistence, they did labs, including dissecting frogs, but in a completely "cookbook" manner, following the teacher in lock step. (Dissecting frogs does require a lot of scaffolding.) The students who came to me loved coloring, but then they remembered nothing of the diagrams. Another long-term substitute complained to me that the students were not retaining anything from the lesson plans the teacher had left. But they were busy!
Listening at faculty meetings I heard about the routines for cooperative learning that were being used school-wide. I assumed that the eighth graders would have been using these practices in all their classes for at least two years. However when I announced we would be using X strategy to engage in discussion I was surprised when they didn't know what I was talking about. The purpose of having these routines is that they facilitate quick engagement with content, since students don't have to have explanations of what to do, explanations that take away instructional time.
When I first heard about the use of this school-wide program, I had expected a particular strategy to be part of the repertoire. It is my favorite, and very powerful for creating authentic, student-centered, problem-based learning. Alas, it was not one of the strategies on the posters that teachers obediently posted on their classroom walls.
I do regret that I tried to fit in with my colleagues, and did not use content or classroom management strategies that I believe in. I previously had a bad experience with disregarding school culture and doing things my own way. But now I see that trying to fit in with a culture I feel is morally bankrupt, bankrupt because it hurts kids, is even worse. I ended up yelling a lot because I lacked courage to be myself. Although we still did some good stuff and many students grew as self-directed learners. In the spirit of quoting Palmer, who you are is what you teach.
And that, dear reader, is why I am not overly optimistic about the results of implementation of Common Core and NGSS. And I hope I am wrong.